Paint Protection Film (PPF)
A Detailed Look at Paint Protection Film
Why choose Rebirth for PPF?
12 years of high end paint correction – ideal desired trait when laying down film over top, locking in the best possible paint condition!

We use the best film on the market with the best support and software for patterns – Xpel Ultimate Plus! 10 year warranty on peeling, delaminating, cracking, blistering or yellowing!

All installs done and/or reviewed by the owner of this business. Same with all hand trimming edits where applicable.

Live factory training from 3 different training facilities in North America for multiple perspectives. 

Have done nearly every vehicle brand and model type with experience in a variety of body styles and lines with a wide variety of custom installs.

We can install precise pre-cut kits or do custom bulk installs (higher price point)

 We edit software kits for the best possible coverage

We wrap edges where applicable for seamless installs.

No rush installs! Proper time to identify any issues with proper quality checking as the film cures.

Abundance of full body install experience!

We give you proper after care maintenance instructions.

Rarely work for dealerships which leads to a better introduction for a long lasting, trustworthy relationship separate from the purchase of your vehicle. With us there is more transparency and clear communication about the service being done. Although we are still referred by many dealerships and handle specific jobs for our existing and new clients. If you're purchasing a new vehicle ask for us to handle your paint protection services, and tell the dealer not to wash or it or remove the protective delivery tape as we can handle it correctly and cautiously right from the beginning!

We are the first and only Manitoba business to offer STEK PPF available in Gloss Black and Fashion Colour Films as well as carbon fibre and smoke for headlights and tail lights!

If you aren't happy with our install, we will re-do it at no charge or refund your purchase! – Haven't had any instances of this.
Currently we are offering Xpel's Ultimate Paint Protection Film that comes with a 10 year warranty! Xpel also carries a Stealth line that gives a matte finish if that's the look you're after.
Warranty covers defects in materials and workmanship for 10 years from the date of purchase! Defects include yellowing, staining, cracking, blistering and delaminating. This warranty does not extend coverage to damage caused by normal wear and tear, road debris impact, accidents, collisions or intentional damage of any kind.
Looking for a colour change or unique new look? Visit https://www.stek-usa.com/fashion-films for more info!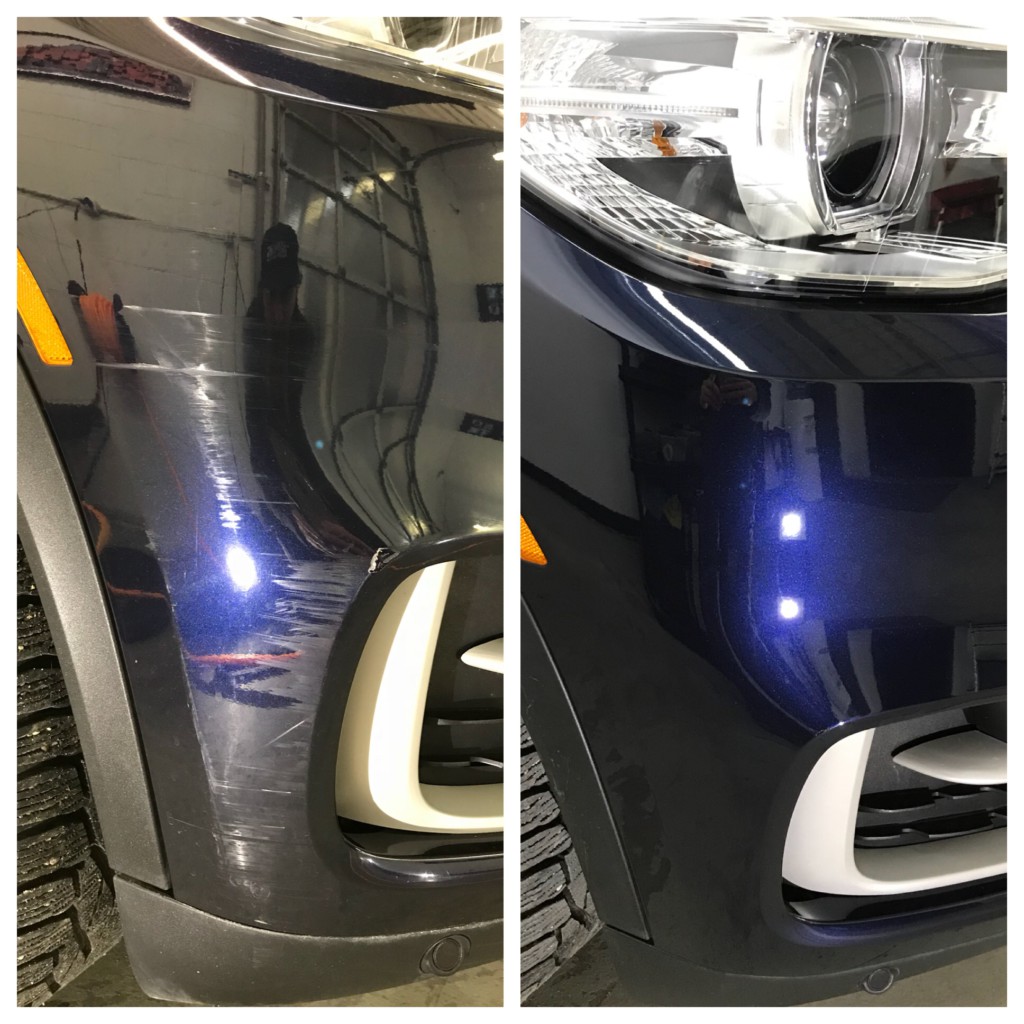 Picture above showing BEFORE: bumper accident/scuff on a BMW X5 with paint protection film. AFTER: paint correction and new PPF bumper kit.
Paint Protection Film Showcase